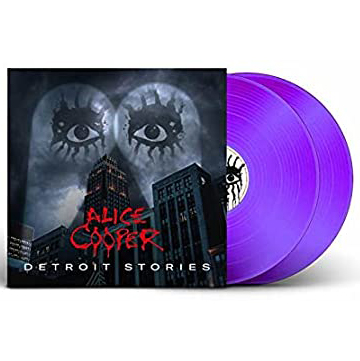 Alice Cooper
Detroit Stories
UK only Amazon Exclusive 2x Purple Vinyl
Pre Order // Buy now
Discover Detroit Stories as they were meant to be told. Now as an UK-only Amazon-exclusice purple vinyl double LP.Named for the city that launched the original Alice Cooper group on the road to success, "Detroit Stories" followed 2019's "Breadcrumbs" EP as a modern-day homage to the toughest and craziest Rock n Roll scene there ever was.
"Los Angeles had its sound with The Doors, Love and Buffalo Springfield," says Alice Cooper, "San Francisco had the Grateful Dead and Jefferson Airplane. New York had The Rascals and The Velvet Underground. But Detroit was the birthplace of angry hard rock. After not fitting in anywhere in the US (musically or image wise) Detroit was the only place that recognised the Alice Cooper guitar driven, hard rock sound and our crazy stage show. Detroit was a haven for the outcasts. And when they found out I was born in East Detroit… we were home."
50 years later Alice and Bob Ezrin (producer) gathered some legendary Detroit musicians in a Detroit studio to record Detroit Stories, Alice Cooper's album for 2021 that celebrates that spirit for a new era. If "Breadcrumbs" EP laid down the trail to the city, Detroit Stories drives like a muscle car right down Woodward Ave.
---
Shop-Link(s):
---
Verfügbare Formate: