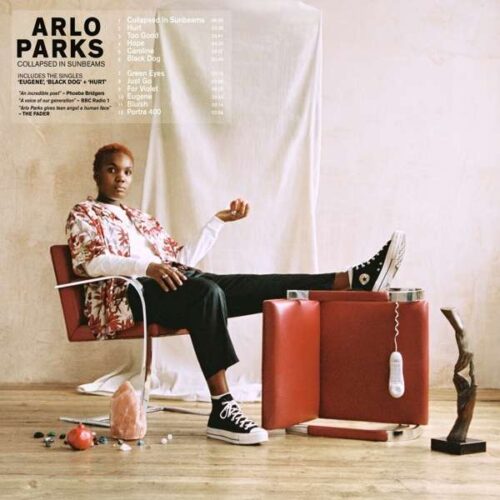 Arlo Parks
Collapsed In Sunbeams
Indie Shop Edition
Pre Order // Buy now
180 gr mustard yellow Vinyl.In den letzten Jahren hat sich Arlo Parks als absoluter Geheimtipp herausgestellt. Wer auf entspannt unaufgeregten Indiepop und -folk mit R'n'B steht, sogenannten Bedroom Pop, ist bei der Singer-Songwriterin aus London genau an der richtigen Adresse.
Nach zwei beeindruckenden EPs kommt 2021 endlich das erste Album von Arlo Parks: »Collapsed In Sunbeams«.
Zwölf Songs hat sie dafür geschrieben und aufgenommen. Neben dem gefeierten »Black Dog«, der bereits im Mai 2020 erschien, wartet auch die neue Single »Green Eyes« auf der Platte.
Beide geben einen guten Eindruck davon, wie einzigartig der Sound der gerade mal 20-jährigen Sängerin ist.
2021 is less than a month old and already we have one of the albums of 2021 from London-based musician and poet Arlo Parks. The album is a series of vignettes and intimate portraits surrounding her adolescence and the people that shaped it. It is rooted in storytelling and nostalgia. The album is an emotional rollercoaster of heartbreak, beautiful poetry, betrayal and hope, that has been inspired by Allen Ginsberg, Sylvia Plath, Jim Morrison and Fela Kuti. One listen and you will fall in love, like you did when you first heard Frank Ocean, King Krule or Lilly Allen.
The LP and CD versions come with a Bonus CD, Best Of The Lofi Lounge, a collection of bedroom recordings from Arlo, including versions of the singles Cola, Hurt and Black Dog, an exclusive Black Dog poem, and intimate covers of songs from Clairo, Phoebe Bridgers, King Krule and Frank Ocean.
---
Shop-Link(s):
---
Verfügbare Formate:
Ltd. LP yellow Indie Shop
Ltd. LP red
LP
---
Tracklist:
1 Collapsed in Sunbeams
2 Hurt
3 Too Good
4 Hope
5 Caroline
6 Black Dog
7 Green Eyes
8 Just Go
9 For Violet
10 Eugene
11 Bluish
12 Porta 400