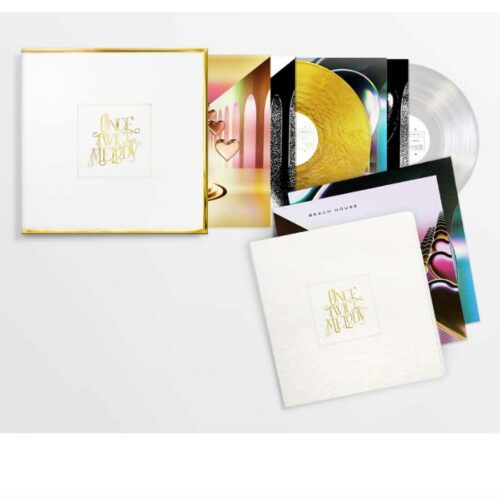 Beach House
Once Twice Melody
Als Gold & Clear oder Silver Vinyl Edition!
Pre Order // Buy now
Once Twice Melody is the 8th studio album by Beach House. It is a double album, featuring 18 songs presented in 4 chapters.Beach House präsentieren 2022 ihr neues, achtes Studioalbum. Wobei, eigentlich könnte man sagen, ihr achtes und neuntes, denn »Once Twice Melody« ist ein Doppelalbum geworden.
Das Schreiben und Aufnehmen der Platte begann im Jahr 2018 und wurde im Juli 2021 abgeschlossen. Die meisten Songs sind in dieser Zeit entstanden, ein paar stammen aus den letzten zehn Jahren. Für den Großteil der Aufnahmen mietete sich das US-amerikanisch-französische Dream-Pop-Duo, bestehend aus der Leadsängerin und Multiinstrumentalistin Victoria Legrand und dem Gitarristen und Multiinstrumentalisten Alex Scally, im Apple Orchard Studio in seiner Heimat Baltimore ein. Wie bei den Vorgängern schrieben sie alle Stücke gemeinsam. »Once Twice Melody« ist allerdings das erste Album, das die Band in Eigenregie produzierte. Das Mixing übernahm überwiegend Alan Moulder, neben Caesar Edmunds, Trevor Spencer und Dave Fridmann. Einige Schlagzeug-Parts steuerte wie schon beim Vorgänger »7« James Barone bei. Außerdem ist erstmals auf einem Beach-House-Album ein Live-Streicherensemble zu hören, das von David Campbell arrangiert wurde.
Das Ergebnis dieser produktiven Zusammenarbeit umfasst 18 Songs, die auf »Once Twice Melody« in vier Kapiteln präsentiert werden. In diesen Liedern sind viele verschiedene Stile und Songstrukturen zu hören. Songs ohne Schlagzeug, Songs mit Akustikgitarre im Mittelpunkt, überwiegend elektronische Songs ohne Gitarre, wandernde und sich wiederholende Melodien, Songs, die auf Streichern aufbauen. Zusätzlich zu den neuen Klängen sind viele der Drum-Maschinen, Orgeln, Keyboards und Töne, die der Hörer mit früheren Beach-House-Platten assoziiert, in den Kompositionen präsent.
Once Twice Melody is the 8th studio album by Beach House. It is a double album, featuring 18 songs presented in 4 chapters. Across these songs, many types of style and song structures can be heard. Songs without drums, songs centered around acoustic guitar, mostly electronic songs with no guitar, wandering and repetitive melodies, songs built around the string sections. In addition to new sounds, many of the drum machines, organs, keyboards and tones that listeners may associate with previous Beach House records remain present throughout many of the compositions.
Beach House is Victoria Legrand, lead singer and multi-instrumentalist, and Alex Scally, guitarist and multi-instrumentalist. They write all of their songs together. Once Twice Melody is the first album produced entirely by the band. The live drums are by James Barone (same as their 2018 album, 7), and were recorded at Pachyderm studio in Minnesota and United Studio in Los Angeles. For the first time, a live string ensemble was used. Strings were arranged by David Campbell.
The writing and recording of Once Twice Melody began in 2018 and was completed in July of 2021. Most of the songs were created during this time, though a few date back over the previous 10 years. Most of the recording was done at Apple Orchard Studio in Baltimore. Once Twice Melody was mixed largely by Alan Moulder but a few tracks were also mixed by Caesar Edmunds, Trevor Spencer, and Dave Fridmann.
---
Shop-Link(s):
---
Verfügbare Formate:
2 LP Gold & Clear Vinyl Edition
2 LP Silver Edition
---
Tracklist:
A1 Once Twice Melody
A2 Superstar
A3 Pink Funeral
A4 Through Me
B1 Runaway
B2 Esp
B3 New Romance
B4 Over And Over
C1 Sunset
C2 Only You Know
C3 Another Go Around
C4 Masquerade
C5 Illusion Of Forever
D1 Finale
D2 The Bells
D3 Hurts To Love
D4 Many Nights
D5 Modern Love Stories