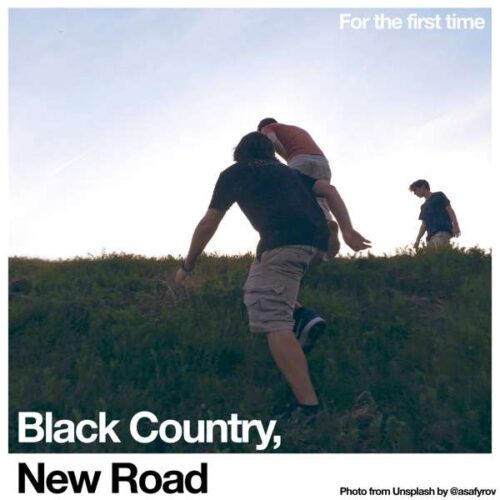 Black Country New Raod
For The First Time
Coloured Vinyl
Pre Order // Buy now
The debut album from Black Country, New Road – the latest stars from the burgeoning and famed Brixton Windmill scene, which also fostered the rise of contemporaries, black midi, Squid, Fat White Family and Shame.
Das Album, das Anfang 2020 mit Andy Savours (My Bloody Valentine) aufgenommen und am Ende der landesweiten Ausgangssperre in Großbritannien fertiggestellt wurde, ist die perfekte Momentaufnahme einer neuen Band und all ihrer Energie, Wildheit und explosiven Ladung, die mit ihr einhergeht, während es gleichzeitig eindeutig die Arbeit einer Gruppe ist, die kein Interesse an Wiederholungen, eintönigem Songwriting oder kreativer Stagnation hat. Mit sechs neuen Songs, darunter Neuinterpretationen der frühen Titel "Sunglasses" und "Athens, France", ist "For The First Time" eine akustische Zeitkapsel, die es irgendwie schafft, die Vergangenheit, die Gegenwart und die Zukunft einzufangen und gleichzeitig stattfinden zu lassen. Obwohl sie bisher nur diese beiden frühen Singles hatten, haben Black Country, New Road – ihren Namen ermittelten sie ursprünglich durch einen Zufallsgenerator – tiefen Eindruck bei Fans und Kritikern gleichermaßen hinterlassen. Sie wurden von The Quietus zur "besten Band der Welt" erklärt, es hagelte glühende Kritiken von New York Times bis Guardian, es gab bereits ein Coverfeature bei Loud & Quiet, für BBC 6 Music spielten sie eine Live-Session, verkauften Shows im ganzen Land aus, darunter 1700 Karten in London, wurden auf Festivals in der ganzen Welt eingeladen – darunter Primavera und Glastonbury – und fanden sich auch schon im französischen Fernsehen zwischen Kim Gordon von Sonic Youth und Ed O'Brienvon Radiohead wieder.
Recorded with Andy Savours (My Bloody Valentine) during the early part of this year and then finished at the end of the nationwide lock-down, the album is the perfect capturing of a new band and all the energy, ferocity and explosive charge that comes with that whilst also clearly the work of a group who have no interest in repetition, one-note approaches or letting creative stagnation set in. Featuring six new songs including reinterpretations of early tracks Sunglasses and Athens, France, For the First Time is a sonic time capsule that somehow manages to bottle the past, the present and the future.
---
Shop-Link(s):
---
Verfügbare Formate:
Ltd. LP white
1500x Ltd. LP clear exclusive
LP
---
Tracklist:
1 Instrumental
2 Athens, France
3 Science Fair
4 Sunglasses
5 Track X
6 Opus