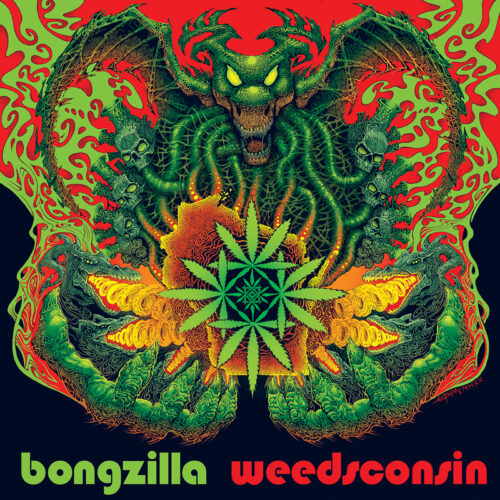 Bongzilla
Weedconsin
Bongzilla is back!
Pre Order // Buy now
Limited coloured EditionsBongzilla sind zurück! Und zwar "facettenreicher" denn je zuvor – schwere Dosen Crushing Stoner Doom treffen auf Psychedelic Space Rock, der es von früherem Material abhebt. (Deshalb ist HPS Records das perfekte Label, um dieses Zeug zu veröffentlichen). Ein wirklich donnerndes dreiteiliges Epos voller harter Riffs, umwerfender Jams und stampfender Beats, wobei Muleboy von der Gitarre zum Bass gewechselt hat. Diese Sounderweiterung gibt der Band die Möglichkeit musikalisch mehr Raum zu schaffen und eine Art Musikalität zu präsentieren. Das Album wurde von Carl Saff gemastert und Eli Quinn hat das Artwork entworfen. "Weedsconsin" ist übrigens der Erinnerung an John Hopkins gewidmet.
On the fringe of chaos, in the Year of the Pandemic, the Cannabeast has awoken!! BONGZILLA is back with a new full length album, 16 years since their last record. These Pioneers of Weed Metal would like to present "WEEDSCONSIN" to the universe. An album written by the three long standing original members of Bongzilla – Muleboy (bass, vocals), Spanky (guitar), and Magma (drums). Recorded and mixed by the late John Hopkins at Future Apple Tree Studios in Rock Island, Illinois in October 2020. The six brand new tracks will blow your mind! In a single instant you are contaminated by the classic Weed-Infected sounds the band is known for, while also finding new elements mixed into the bowl. In the unique piece that is Weedsconsin, Bongzilla delivers heavy doses of Crushing Stoner Doom and Psychedelic Space Rock that sets it apart from earlier material. (That's why HPS Records is the perfect label to release this stuff). This record travels down a path of heavy riffs, mind-expanding jams, sonic tones, and stomping beats in the band's first release as a thunderous three piece, with Muleboy moving from guitar to bass. Approaching these songs as a three piece has created more space musically and allowed the band to showcase their musicianship in a different way. It results in a sound that is very heavy, along the lines of Gateway tone-wise, but sonically more clear. The album is mastered by Carl Saff at Saff Mastering in Chicago, Illinois, and Eli Quinn (Madison, Wisconsin) is the artist behind the astounding new cover art. Weedsconsin is dedicated to the memory of John Hopkins.
---
Shop-Link(s):
---
Verfügbare Formate:
LP neon green 400x
Test Press 25x
LP Corenetto green 35x sold out
LP Tri Colour 150x
LP green/white 150x
LP green fluo 400x
LP