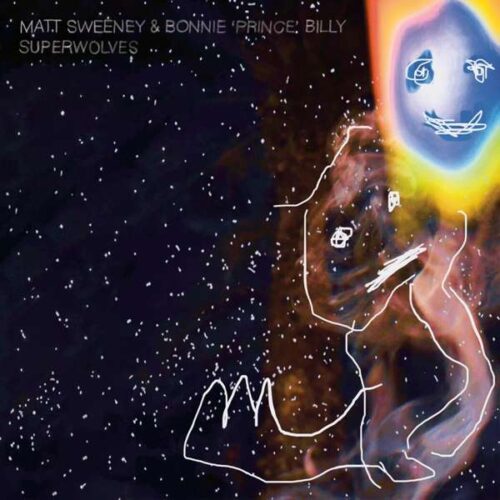 Bonnie 'Prince' Billy & Matt Sweeney
Superwolves
Indie Shop Edition on transparent curacao-coloured Vinyl
Pre Order // Buy now
The duo's second album go boldly into undreamed-of places, and go deep, as Matt and Bonny take all the musics they know to make songs that penetrate.16 Jahre nach Superwolf, dem ersten gemeinsamen Album von Matt Sweeney und Bonnie ´Prince´ Billy, heulen die beiden Musiker erneut den Mond an. In klassischer Garcia-Hunter-Manier arbeiteten Sweeney und der 'Prince' zunächst getrennt und fanden dann mit ihren separaten Song-Visionen den Weg zueinander. An Matt gelieferte Bonnie-Lyrics entfachten Sweeneys Fantasie an der Gitarre; Akkorde und eine Melodie wurden geformt, schnell und locker aufgenommen und an den 'Prince' zurückgeschickt, dann trafen sich beide Parteien, um sie zu singen, zu verweben, zu festigen und schließlich gemeinsam vor einem kleinen, ahnungslosen Publikum aufzuführen. Neue Blöcke von Texten und Song-Elementen wurden verschickt, verstrickt und verstanden, bis alles bereit war für die finalen Aufnahmen. Die Arbeit an "Superwolves" begann bereits vor fünf Jahren, die erste eigentliche Session fand jedoch erst vor etwa einem Jahr im Brooklyn's Strange Weather statt und die nächste im Butcher Shoppe in Nashville. Sweeney überwachte die Brooklyn-Sessions während Oldham die Nashville-Mixe überwachte. Sweeney singt die Harmonien um Will Oldham herum mit und spielt alle elektrischen, akustischen und Bassgitarren, stellenweise unterstützt von David Ferguson am Stand-up-Bass, Mike Coltun am E-Bass, Mdou Moctar an der elektrischen Leadgitarre, Ahmoudou Madassane an der Rhythmusgitarre, Souleyman Ibrahim, Ryan Sawyer und Peter Townsend am Schlagzeug und Mike Rojas an den Tasten. Und Bonnie 'Prince' Billy singt. Natürlich.
Where once was Superwolf, now roam Superwolves, the new album and demon spawn of Matt Sweeney and Bonnie 'Prince' Billy.
The songs that make up Superwolves, the duo's second album and first since 2005's Superwolf, go boldly into undreamed-of places, and go deep, as Matt and Bonny take all the musics they know to make songs that penetrate. In classic Garcia-Hunter style, Sweeney and the 'Prince' first work separately, finding a path to each other in their solitary imaginings. Bonnie lyric sets delivered to Matt spark Sweeney's guitar brain; chords and a melody are shaped, recorded fast and loose and sent back to the Prince, then the two parties meet up to sing, stitch, strengthen and finally perform them together in front of a small unsuspecting audience. Then new sets of lyrics are sent, animated and played in a high wire style until the shared songs and experiences are ready to commit to record. This is just the beginning of their fusion process, as words imply vocalizations to counter and support, and guitar lines suggest harmonic fields to subtly push into. In this process, a new creature grows out of the old one. In this name of this partnership, the guitar shares an open and fluid space with the vocals, the voices sing with the guitars – every moment in the life of Superwolves is an extravaganza, guided only by its need.
As far as this record, as in when and how it came together, the two man crew started working on it five years ago. The first actual session, however, went down about a year ago at Brooklyn's Strange Weather and the next took place at the Butcher Shoppe in Nashville. Sweeney oversaw the mixing of the Brooklyn sessions with Oldham overseeing the Nashville mixes. On the album, Sweeney sings harmonies along, with, and around his favorite singer, and plays all electric, acoustic, and bass guitars, joined in places by David Ferguson on stand-up bass, Mike Coltun on electric bass, Mdou Moctar on electric lead, Ahmoudou Madassane on rhythm guitar, Souleyman Ibrahim, Ryan Sawyer and Peter Townsend on drums and Mike Rojas on keys. The Bonnie 'Prince' sings. Does he ever. And Superwolves rules over all.
---
Shop-Link(s):
---
Verfügbare Formate:
---
Tracklist:
1 Make worry for me
2 Good to my girls
3 God is waiting
4 Hall of death
5 Shorty's ark
6 I am a youth inclined to ramble
7 My popsicle
8 Watch what happens
9 Resist the urge
10 There must be a someone
11 My blue suit
12 My body is my own
13 You can regret what you have done
14 Not fooling