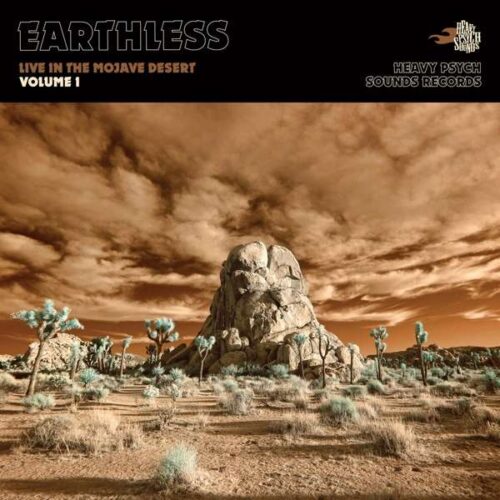 Earthless
Live In The Mojave Desert Vol.1
Weed is in the air
Pre Order // Buy now
Limited to 300 gold Edition.Gold Vinyl, limitiert auf 300 Exemplare sowie regulär black! Live In The Mojave Desert ist eine Livestream-Konzertfilmreihe, die im tiefen Sand und vor einer riesigen Doppelpyramide aus Felsbrocken in der kalifornischen Wüste entstanden ist. Jeder Konzertfilm erscheint auch als Livealbum, eine visuelle Beilage gibt es allerdings nicht. Inspiriert wurde das Projekt übrigens von Pink Floyds "Live at Pompeii". Kurzum: "Rad music, good times & psychedelic positive vibez in the desert! Aufgenommen in 24-Spur-ProTools!
Heavy Psych Sounds Records will be the European partner of the California Desert Wizard Association for the Live in the Mojave Desert albums.
LIVE IN THE MOJAVE DESERT is a livestream concert film series created deep in the deep sand and huge boulders of some insanely beautiful California wilderness, with performances from Earthless, Nebula, Spirit Mother, Mountain Tamer, and STONER (a new band by Brant Bjork and Nick Oliveri).
Each concert film is presented in a world-premiere, 1080p HD livestream event and will become a LIVE ALBUM. Rad music, good times, psychedelic positive vibez from the desert.
Live in the Mojave Desert was inspired by Pink Floyd's Live at Pompeii. A few of our favorite bands – new and legendary artists – with the Mad Alchemy Liquid Light Show to light up a huge double pyramid of boulders. Recorded in 24 track ProTools.
---
Shop-Link(s):
---
Verfügbare Formate:
Ltd. 2LP gold 300x
2LP Testpressung 15x
2LP Tri Colour 70x
2LP white Red green 150x
2LP