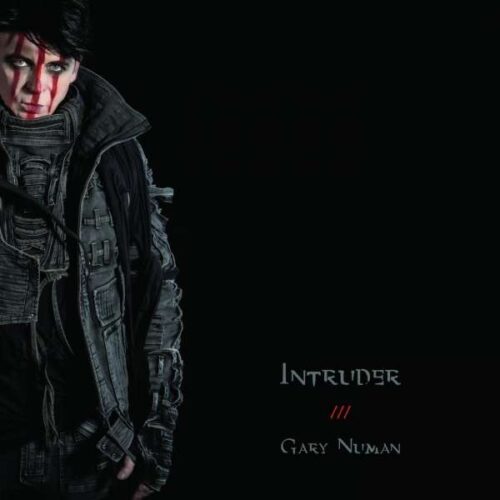 Gary Numan
Intruder
Indie Shop Edition on limited red Vinyl
Pre Order // Buy now
A new album from the Synthpop icon Gary Numan.Die Synthpop-Ikone Gary Numan veröffentlicht sein brandneues Studioalbum »Intruder«. »Intruder« ist Numans 18. Soloalbum und der Nachfolger des 2017 erschienenen »Savage: Songs From A Broken World«. Es erreichte Platz 2 der britischen Albumcharts und wurde zu seinem größten kommerziellen Erfolg seit fast 40 Jahren. Das Album wurde von Kritikern weltweit gelobt, unter anderem auch von vielen Künstlerkollegen wie Mojo, The Quietus oder PopMatters.
Während »Savage« die Erde als karges Ödland darstellt, in der die Menschheit und die Kultur durch die Auswirkungen der globalen Erwärmung weitgehend vernichtet worden ist, erzählt »Intruder« eine alternative Geschichte. Es handelt sich um eine philosophische Auseinandersetzung mit einer möglichen zukünftigen Apokalypse: Der Planet kann nur überleben, indem er seine Bewohner auslöscht.
»Intruder« wurde in Numans Heimstudio in Los Angeles sowie bei Produzent Ade Fenton in Bath aufgenommen. Es ist ihr fünftes gemeinsames Werk nach »Jagged« (2006), »Dead Sun Rising« (2011), »Splinter (Songs From A Broken Mind)« (2013) und »Savage (Songs From A Broken World)« (2017).
Seit seinen epochalen Hits »Cars« und »Are Friends Electric?« (mit Tubeway Army) Ende der 70er Jahre ist Gary Numan stets kreativ geblieben und hat einen riesigen Katalog an Werken veröffentlicht. Pioniere wie Prince, David Bowie und Nine Inch Nails zählen Numans Musik zu ihren großen Einflüssen und auch zeitgenössische Größen wie Kanye West und Lady Gaga berufen sich auf ihn. 2017 wurde er bei den Ivor Novello Awards mit dem prestigeträchtigen »Inspiration Award« ausgezeichnet. 2020 erzählte er seine außergewöhnliche Lebensgeschichte in seiner Autobiografie »(R)evolution«.
Synthpop icon Gary Numan releases his brand new studio album "Intruder". "Intruder" is Numan's 18th solo album and the follow-up to 2017's "Savage: Songs From A Broken World." It reached #2 on the UK album charts and became his biggest commercial success in nearly 40 years. The album has been praised by critics worldwide, including many fellow artists such as Mojo, The Quietus and PopMatters
While "Savage" depicts Earth as a barren wasteland where humanity and culture have been largely annihilated by the effects of global warming, "Intruder" tells an alternative story. It is a philosophical exploration of a possible future apocalypse: the planet can only survive by wiping out its inhabitants
"Intruder" was recorded at Numan's home studio in Los Angeles as well as at producer Ade Fenton's home in Bath. It is their fifth work together after "Jagged" (2006), "Dead Sun Rising" (2011), "Splinter (Songs From A Broken Mind)" (2013) and "Savage (Songs From A Broken World)" (2017)
Since his epochal hits "Cars" and "Are Friends Electric?" (featuring Tubeway Army) in the late '70s, Gary Numan has remained consistently creative, releasing a vast catalogue of work. Pioneers like Prince, David Bowie and Nine Inch Nails count Numan's music among their major influences, and contemporary greats like Kanye West and Lady Gaga also invoke him. In 2017, he was awarded the prestigious "Inspiration Award" at the Ivor Novello Awards. In 2020, he told his extraordinary life story in his autobiography "(R)evolution".
---
Shop-Link(s):
---
Verfügbare Formate: