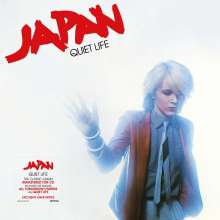 Japan
Quiet Life
Indie Shop Edition on limited red Vinyl
Pre Order // Buy now
Or as Deluxe Editoin LP&CD.Dass Japans bahnbrechendes Album "Quiet Life" sowohl 1979 als auch 1980 veröffentlicht wurde, ist passend für eine Band, die im Begriff war, aus dem Glam-Rock- und Post-Punk-Schatten der späten 70er Jahre herauszutreten und eine bis dato genrefreie Platte zu liefern, die später die 80er Jahre definieren sollte.
Quiet Life war die dritte, letzte und erfolgreichste Veröffentlichung auf dem Label Hansa Records. Als Vorreiter für den Alternative / New Wave-Sound des neuen Jahrzehnts sollte das Album zu einem der großen britischen Klassiker werden.
Das Album ist nun Gegenstand einer großartigen Neuveröffentlichung mit einem brandneuen Abbey Road Half-Speed-Remaster des Originalalbums. Die Deluxe-Versionen enthalten außerdem alternative Mixe, B-Seiten, Singles, Raritäten und Live-Material – einschließlich der verloren geglaubten "Live at The Budokan"-Show vom März 1980, die bisher nur als 4-Track EP "Live in Japan" erhältlich war.
Die Veröffentlichung enthält das wiederhergestellte original Album-Artwork, neue Liner Notes mit Beiträgen der Bandmitglieder und des Original-Produzenten, sowie seltene bislang unbekannte Fotos und Erinnerungsstücke.
That Japan's seminal album, Quiet Life, was released in both 1979 and 1980 is fitting for a band that was about to step out of the glam rock and post-punk shadows of the late '70s and deliver a previously genre-free record that would later define the '80s
Quiet Life was the third, final and most successful release on the Hansa Records label. Leading the way for the Alternative / New Wave sound of the new decade, the album was to become one of the great British classics
The album is now the subject of a superb re-release with a brand new Abbey Road half-speed remaster of the original album. The deluxe versions also include alternative mixes, B-sides, singles, rarities and live material – including the lost "Live at The Budokan" show from March 1980, previously only available as a 4-track EP "Live in Japan"
The release includes the restored original album artwork, new liner notes with contributions from the band members and the original producer, as well as rare previously unseen photos and memorabilia.
---
Shop-Link(s):
---
Verfügbare Formate:
Deluxe Edition LP&3CD
Ltd. LP red Indie Shop
LP