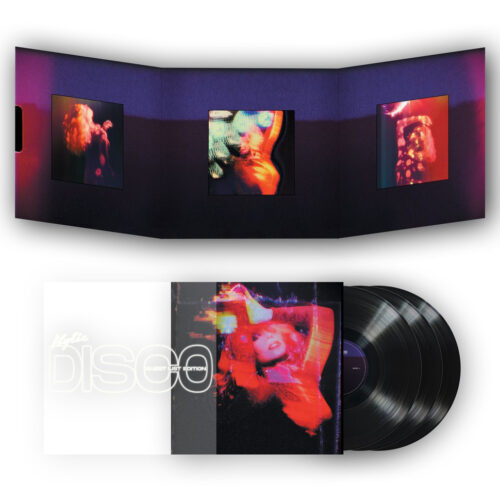 Kylie Minogue
DISCO: Guest List Edition
3 LP Edition!
Pre Order // Buy now
Kylie, Gäste und Remixes: Im letzten Jahr veröffentlichte Kylie Minogue ihr neues Album »Disco«, das 15. Studioalbum der australischen Pop-Ikone. 2021 kündigt die Sängerin nun eine besondere Version der Platte an: »Am 12. November kehren wir mit DISCO auf die Tanzfläche zurück: ›Guest List Edition‹«, schrieb Kylie dazu auf Twitter.
Und sowohl die Gästeliste als auch die neue Trackliste kann sich sehen beziehungsweise hören lassen. Mit »A Second To Midnight« (feat. Years & Years), »Can't Stop Writing Songs About You« (feat. Gloria Gaynor) und »Kiss Of Life« (feat. Jessie Ware) warten drei neue Songs auf der »Disco: Guest List Edition«.
Die britische Sängerin und Songwriterin Dua Lipa steuerte den bereits veröffentlichten Studio-2054-Remix von »Real Groove« bei. Weitere Remixe und Extended Mixes auf dem Album stammen von Basement Jaxx, Purple Disco Machine, Syn Cole und anderen.
---
Shop-Link(s):
---
Verfügbare Formate:
---
Tracklist:
A1 Magic
A2 Miss A Thing
A3 Real Groove
A4 Monday Blues
A5 Supernova
A6 Say Something
B1 Last Chance
B2 I Love It
B3 Where Does The DJ Go?
B4 Dance Floor Darling
B5 Unstoppable
B6 Celebrate You
C1 Till You Love Somebody
C2 Fine Wine
C3 Hey Lonely
C4 Spotlight
D1 Kylie And Years & Years – A Second To Midnight
D2 Kylie And Jessie Ware – Kiss Of Life
D3 Kylie And Gloria Gaynor – Can't Stop Writing Songs About You
D4 Kylie And Dua Lipa (Studio 2054 Remix)
E1 Say Something (Basement Jaxx Remix)
E2 Say Something (F9 Remix)
E3 Say Something (Syn Cole Extended Mix)
F1 Magic (Purple Disco Machine Extended Mix)
F2 Kylie And Dua Lipa – Real Groove (Studio 2054 Initial Talk Remix)
F3 Dance Floor Darling (Linslee's Electric Slide Remix)