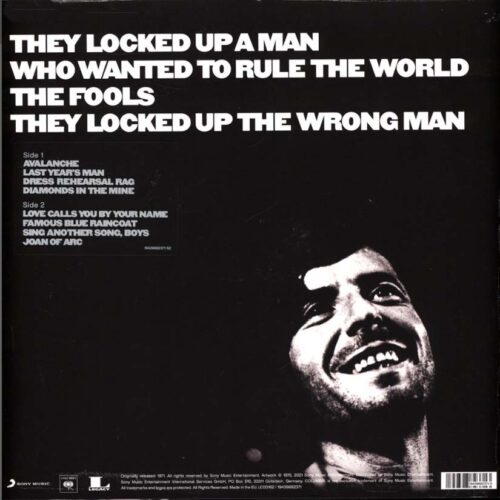 Leonard Cohen
Songs Of Love And Hate
BLACK FRIDAY RSD 2021 Edition! Opaque White Vinyl – Limited to 5.000 copies!
Pre Order // Buy now
50th anniversary edition on 180g opaque white vinyl, with updated / re-typeset embossed packaging that includes a brand new eight page, 12×12 lyric booklet.PACKAGING NOTE: Track list on back of LP jacket is a sticker that comes off when the cellophane is removed so that the jacket replicates the original package without tracklist.
---
Shop-Link(s):
---
Verfügbare Formate:
LP opaque white vinyl/ 5.000 copies
(ab 21 Uhr online)
---
Tracklist:
A1 Avalanche
A2 Last Year's Man
A3 Dress Rehearsal Rag
A4 Diamonds In The Mine
B1 Love Calls You By Your Name
B2 Famous Blue Raincoat
B3 Sing Another Song, Boys
B4 Joan Of Arc