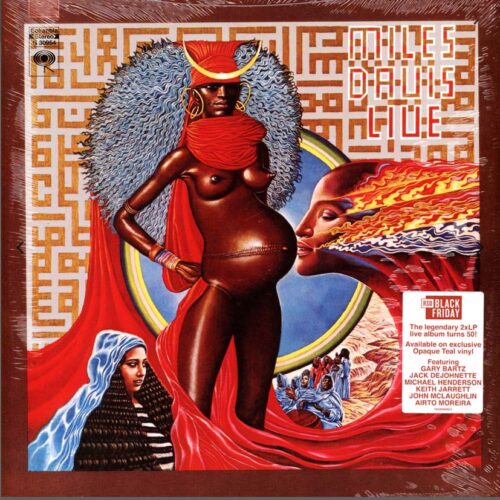 Miles Davis
Live-Evil
BLACK FRIDAY RSD 2021 EDITION! Opaque Teal Vinyl – Limited to 10.550 copies worldwide!
Pre Order // Buy now
The album's striking cover by legendary illustrator Mati Klarwein is complemented by two slabs of limited edition opaque teal colored vinyl for RSD Black Friday.Limited to 10.550 copies worldwide. Miles Davis' Live-Evil turns 50 in November and this jazz-funk landmark double LP is a 100-minute workout of hard grooves and rhythmic explorations. Captured live during his legendary 1970 stand at Washington DC's Cellar Door, then edited by producer Teo Macero, the recording features Miles joined by a murderer's row of musicians: Gary Bartz, John McLaughlin, Keith Jarrett, Michael Henderson, Jack DeJohnette and Airto Moreira.
---
Shop-Link(s):
---
Verfügbare Formate:
2 LP Opaque Teal Vinyl / 10.550 copies worldwide
(ab 21 Uhr online)
---
Tracklist:
A1 Sivad
A2 Little Church
A3 Medley Gemini Double Image
B1 What I Say
B2 Nem Un Talvez
C1 Selim
C2 Funky Tonk
D1 Conrad Roberts – Inamorata & Narration