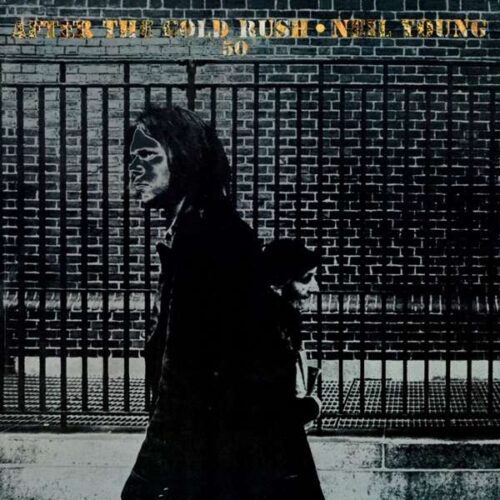 Neil Young
After The Gold Rush
50th Anniversary Edition
Pre Order // Buy now
With 7″ and Art Print.50 Jahre sind vergangen, seit Neil Young seinen Meilenstein »After The Gold Rush« veröffentlichte.
2020 präsentiert die kanadische Folk- und Rocklegende nun die Jubiläumsneuauflage auf CD und LP.
»After The Gold Rush« ist das dritte Soloalbum von Neil Young. Es erschien ursprünglich im September 1970.
Zu den bekanntesten Songs gehören der Titelsong, »Tell Me Why«, »Only Love Can Break Your Heart«, »Southern Man«, »Don't Let It Bring You Down«, »Birds« und »When You Dance I Can Really Love«.
Das Album landete in den USA auf Platz acht, im UK auf Platz sieben und in Kanada auf Platz fünf der Charts. Sowohl in den USA als auch in Großbritannien wurde es mit Doppelplatin ausgezeichnet.
Neben dem Reissue auf CD im Dezember 2020 gibt es »After The Gold Rush« im März 2021 wieder auf LP und zwar mit der Bonus-7ʺ-Single »Wonderin'«. Diese enthält zwei Versionen des Album-Outtakes. Die A-Seite war auf »The Archives Vol. 1: 1963–1972« zu finden und wurde im März 1970 im kalifornischen Topanga aufgenommen. Die B-Seite ist eine bisher unveröffentlichte Version des Songs, die im August 1969 bei Sunset Sound in Hollywood eingespielt wurde. Abgerundet wird das Vinyl-Boxset von einem Litho-Druck des Album-Frontcovers.
Originally released in 1970 and still seen as one of Neil Young's greatest albums, After The Gold Rush celebrates 50 years since its release with this special edition. Featuring timeless classic Neil Young songs such as Southern Man and Only Love Can Break Your Heart, this new edition also includes a version of the track Wonderin', originally written around the time of After The Gold Rush, which only previously appears on the Archives boxset plus a previously unreleased outtake from the recording sessions for that track.
---
Shop-Link(s):
---
Verfügbare Formate:
---
Tracklist:
1 Tell me why
2 After the gold rush
3 Only love can break your heart
4 Southern man
5 Till the morning comes
6 Oh, lonesome me
7 Don't let it bring you down
8 Birds
9 When you dance i can really love
10 I believe in you
11 Cripple creek ferry
12 Wonderin'
13 Wonderin' (previously unreleased version)