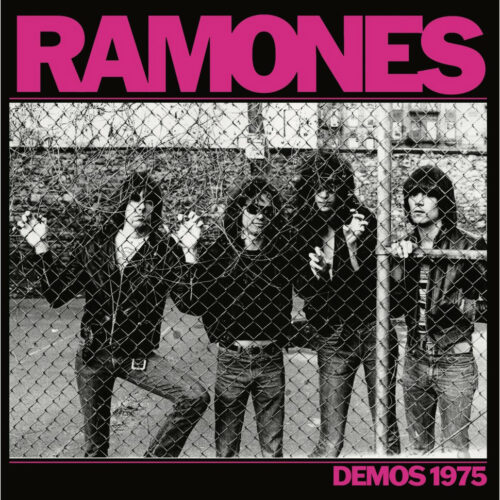 Ramones
Demos 1975
Ramones US fan club release featuring their full demos!!
Pre Order // Buy now
Don't sleep on this. Pre-order now! THE Ramones, hoping to aid the securing of a record deal, made many demo recordings of their early material.Mostly recorded in the first part of 1975 with a second, shorter attempt in September, these offer the best glimpses of the band in its formative stages. (Two notable films also exist from this period- a three-song shambles of a 9/15/1974 performance featuring an eerily childlike Ramones at an astonishingly early Cbgb show, and a powerfully raw, but still not quite fully developed set long video shot at Arturo VEGA's loft in March of 1975, basically halfway between the demo sessions.) Utilizing the 914 recording studios, Tommy Ramone's previous engineering experience, and the peripheral input of first manager Marty Thau, they offer a fascinating alternative insight into how the eventual debut album might have otherwise sounded. Their dense, primal sound reveals the surprising amount of dilution that the first record's somewhat conceptual mix wrought upon the quartet's fundamental power.
---
Shop-Link(s):
---
Verfügbare Formate:
---
Tracklist:
A1 I Don't Wanna Go Down To The Basement
A2 53rd & 3rd
A3 I Wanna Be Your Boyfriend
A4 Judy Is A Punk Loudmouth
A5 Now I Wanna Sniff Some Glue
A6 I Can't Be
B1 Today Your Love, Tomorrow The World
B2 I Don't Wanna Walk Around With You
B3 I Don't Wanna Be Learned
B4 You're Gonna Kill That Girl
B5 What's Your Game
B6 Chainsaw
B7 You Should Have Never Opened That Door