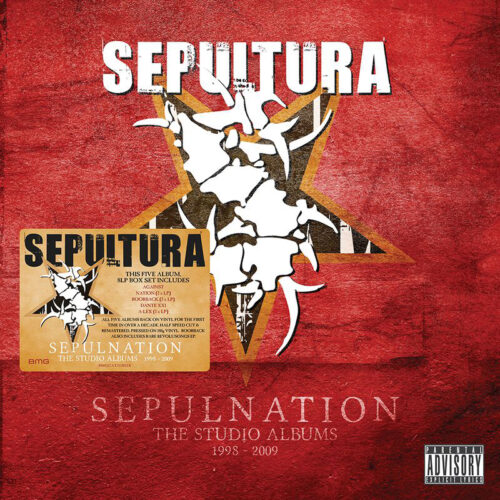 Sepultura
Sepulnation The Studio Albums 1998-2009
8LP Side Loading Box Set
Pre Order // Buy now
Alle Alben wurden in halber Geschwindigkeit neu gemastert und erscheinen zum ersten Mal seit 10 Jahren auf 180g Vinyl.
Sepultura sind wahrscheinlich eine der wichtigsten und größten Bands aus Brasilien, die weltweiten Erfolg genießen. "Sepulnation – The Studio Albums 1998 – 2009" enthält fünf Alben aus der zweiten Phase der Band, als Sänger Derrick Green neu dazu gekommen ist und Gründungsmitglied Max Cavalera ersetzt hat. Sein Bruder Igor Cavalera ist noch auf vier der Alben am Schlagzeug zu hören. Enthalten sind die folgenden Alben aus den Jahren 1998 bis 2009: Against, Nation, Roorback, Dante XXI und A-Lex.
This five album 8LP side loading box set includes:
Against
Nation (2 x LP)
Roorback (2 x LP)
Dante XXI
A-Lex (2 x LP)
All five albums back on vinyl for the first time in over a decade.
Half speed cut and remastered.
Pressed on 180g vinyl.
Roorback also includes rare Revulosongs EP.
---
Shop-Link(s):
---
Verfügbare Formate: