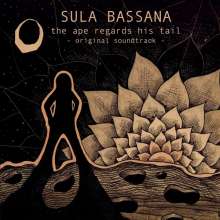 Sula Bassana
The Ape Regards His Tail
Der erste Soundtrack von Sula Bassana.
Pre Order // Buy now
Spaciger Soundtrack für den Sci-Fi Film, limitierte Auflage 500 auf transparentem Vinyl.Sula Bassana's first soundtrack album features 60 minutes of totally spaced out and minimalistic music for the sci-fi feature-film 'The Ape Regards His Tail', directed by Michael Yates. The music was made with synthesizers, string ensembles, mellotron, organ, e-guitar and e-piano. It shows the mellow and relaxed, but also deep, dark and melancholic side of Sula Bassana. Wide and floating soundscapes combined with deep melodies and spaced out sounds. Close your eyes and watch a movie inside your head, constructed by those tunes and your mind. Three-sided double LP.
---
Shop-Link(s):
---
Verfügbare Formate: