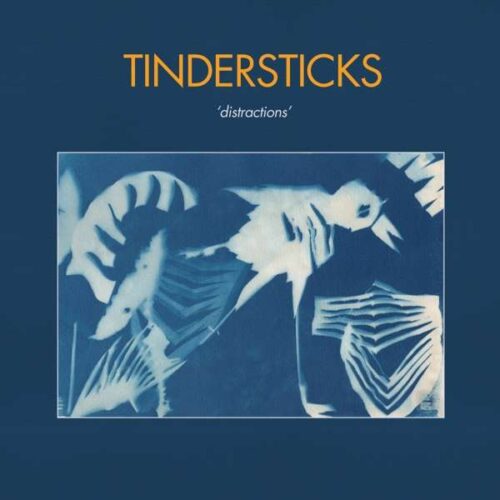 Tindersticks
Distractions
Limited dark blue Edition
Pre Order // Buy now
Distractions is an album of subtle realignments and connections from a restless, intuitive band: rich in texture and atmosphere, it lives between its open spaces and details, always finding new ways to connect with a song.Die britische Rockband um Sänger Stuart A. Staples ist seit den 1990er-Jahren bekannt für ihre Verschmelzung von Gitarren-Pop und Kammermusik – der Einsatz von klassischen Instrumenten, wie Streicher, Bläser und Perkussioninstrumente sind charakteristisch für ihren eigenen Stil und Sound- Das Eröffnungsstück des neuen Albums und der bisher längste Song der Tindersticks, "Man Alone (Can't Stop the Fadin')", reitet auf einem hypnotischen Basspuls, über den sich Staples' mantrischer Gesang legt: Er kitzelt die Nuancen aus der Wiederholung heraus und verlässt die konventionelle Songstruktur, um seinen eigenen Raum zu schaffen. Stuart A. Staples kommentiert den Track: "This song was always a journey but I wasn't expecting it to be such a long one. We made a 6 minute version but it felt like it pulled off and stopped half way to its destination. This was the beginning of a long journey in itself, to find the route needed to complete it – probably the biggest challenge a song or piece of music has given us. It was delicate and slippery right up to the final mix, which lasted a week! For me the song has a strange connection to the drum machine, bass guitar and voice combination of 'Indignant Desert Birds' – mine and Neils first band when I was 17. It was important to me that the words of the song were not a coherent narrative, but passing thoughts along the way." "Distractions" ist ein Album der subtilen Neuausrichtungen und Verbindungen einer rastlosen und intuitiven Band: reich an Textur und Atmosphäre, lebt es zwischen seinen offenen Räumen und filigranen Details und findet immer wieder neue Wege, sich mit einem Song zu verbinden.
Just before the end of the year 2020, a mere 12 months, after the release of their celebrated record No Treasure But Hope, Tindersticks surprised everyone with mentioning a new album to be released in 2021.
Stuart Staples was already nurturing seeds for a different kind of Tindersticks album before lockdown halted their tour in early 2020, singer. If 2019's No Treasure but Hope saw the band rediscovering themselves as a unit, the follow-up reconfigures that unit so that everything familiar about Tindersticks sounds fresh again.
If it's an album that resists easy summation, at least one thing is clear: though it isn't untouched by the lockdown, Distractions is not 'a lockdown album'. As Staples says, "I think the confinement provided an opportunity for something that was already happening. It is definitely a part of the album, but not a reaction to it."
---
Shop-Link(s):
---
Verfügbare Formate:
Ltd. LP blue
Ltd LP blue signed 200x
LP